Returning to normalcy in the age of COVID-19 is closer than ever, although precautions will still need to be in place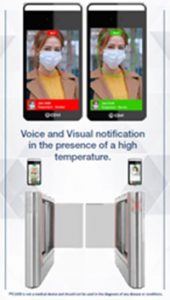 for the foreseeable future.
Whether you are a business, educational facility or a manufacturing plant, there is a lot to consider for the safety of those entering your facility. Following workplace guidance from the FDA and CDC, STS works with you, incorporating temperature and face mask detection systems, air purification systems, sanitizing portals, and sanitized quarantine areas to create a safe environment and help reduce virus spread.
Individuals entering your facility with a fever or not wearing a protective face covering must be immediately detected and separated. For the safety of that individual and others, a short-term quarantine area should be available.
You may already have an available room that can be retrofitted or you may require a sanitized hallway or tent, creating a safe pathway to the quarantine area where the individual can wait for next steps.
Likewise, after herd immunity has been achieved, continued use of our equipment may help prevent the spread of other more common non─life threatening viruses such as colds and flus.
No longer will a sick child risk spreading symptoms to their entire class or a sick employee risk unintentionally spreading germs that will infect the entire office. For immediate safety and for future care, let STS work with you to create and implement a proactive safety plan.